5-inch well close-coupled with max depth of immersion of 20m with float switch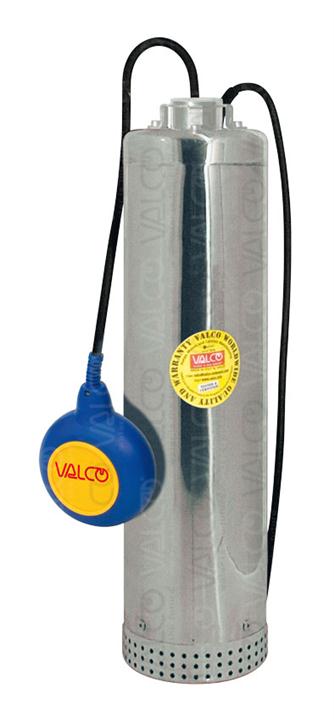 5-inch well close-coupled for collection tank, cisterns, reservoirs, etc.
5" CLOSE COUPLED
Vera™ - 5" SUBMERSIBLE CLOSE-COUPLED STAINLESS STEEL MULTISTAGE CLEAN WATER ELECTRIC PUMPS for collection tanks or cisterns, reservoirs, open large wells, basins, shallow wells, irrigation, gardens and for traditional 5" or 6-inch wells (with Maximum Depth of Immersion of 20m) close-coupled to a 2 pole electric motor cooled by the pumped liquid.

MADE OF ALL NON-CORROSIVE MATERIALS, ROBUST, DOUBLE MECHANICAL SEAL SHAFT, COMPACT AND EASY TO INSTALL.

APPLICATIONS
Suitable to extract underground water for general water well applications: water supply from wells, cisterns, collection tanks or from reservoirs, basins, garden, orchard and landscape irrigation, vineyards, sprinkler systems, turf watering, horticulture, golf courses, booster sets; storm and flood water removal, emptying of flooded underground cellars, treated grey waters, garage, basements, pits, rainwaters and storm water harvesting, farmings, stock watering, rural dwellings, private homes and weekend cottages, air conditioning, refrigeration, drinking water circulation, waterfalls, swimming pools, dewatering, water treatment, frost protection, mine drinking water supply and dewatering.

They may be installed also horizontally for operation into fountains, ponds, rivers, water tanks, etc.

Suitable to replace standard surface pumps, carrying the advantages of lesser space needed, less maintenance and complete absence of noise.

For domestic household, industrial, agricultural, commercial and municipal applications, in all cases where it is requested to lift water out from below the ground and to push it above with pressure: private sector water suply, public and residential buildings, office buildings, hotels, hospitals, industries.

Maximum Depth of Immersion: 20m.