4-inch well also all stainless steel and with floating impeller sand resistant to reduce sand locking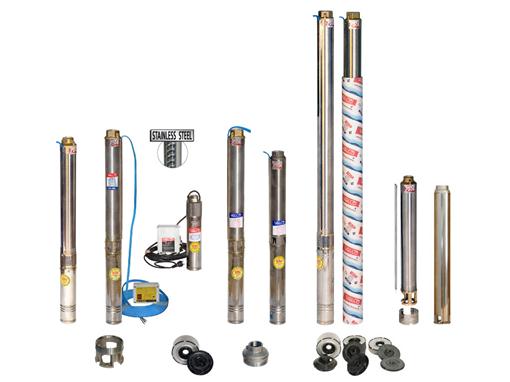 view of 4-inch well range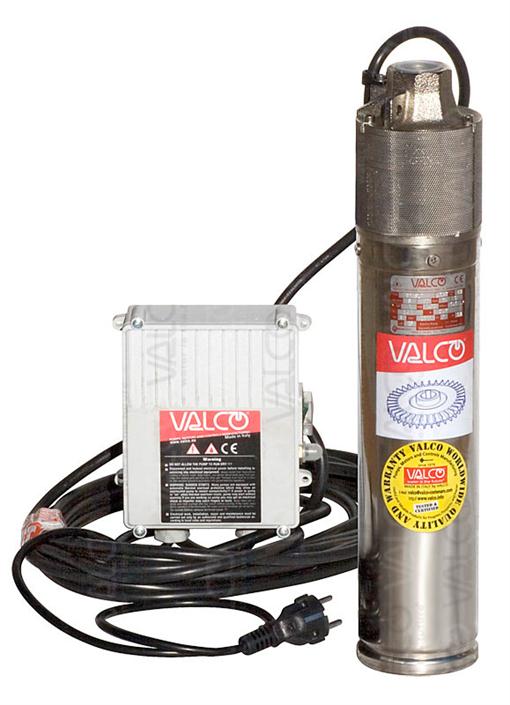 4"R 4-inch well Regenerative Multivane Turbine Peripheral Close-coupled

4-inch well with rewindable oil cooled submersible electric motor

4-inch well electric pumpset with control box

4-inch well with mixed flow impeller and 2" delivery head

4-inch well all stainless steel with radial impeller

4-inch well Floating Sand Resistant: reduces sand locking

4-inch well pump end (all wetted parts) to NEMA Standard with head made in brass

4-inch well pump end (all wetted parts) to NEMA Standard with head made in stainless steel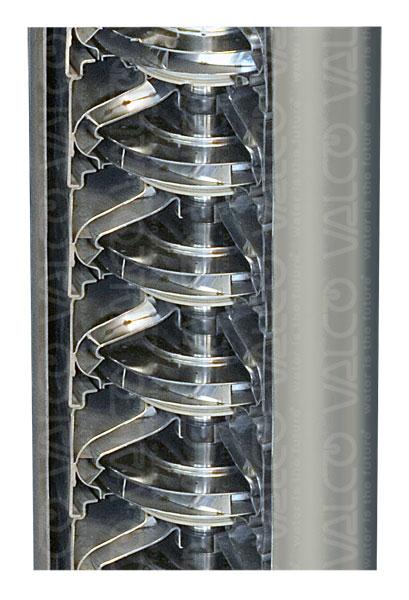 inside view of stainless steel 304 and 316 execution
4" Vera™ - SUBMERSIBLE MULTISTAGE BOREHOLE ELECTRIC PUMPS FOR DEEP WELLS for min. 4-inch COMPLETE WITH 2 POLE MOTORS TO NEMA STANDARD.

PUMP CONSTRUCTION - Executions:
P = noryl and polycarbonate corrosion and abrasion resistant and non toxic with Pump and Motor Casing in Stainless Steel. Pump Head and Motor Bracket in in Brass. (On demand Pump Head and Motor Bracket in Stainless Steel).
S = All Stainless Steel
F = floating impeller sand resistant reduces sand locking: executions for superior sand handling able to handle a tolerable quantity of sand.

-Built-in check non-return valve to protect the pump against water hammer.

SUBMERSIBLE ELECTRIC MOTORS - 4-inch
- Rewindable
- Oil cooled (prefilled with food grade additives to protect against freeze and rust).

INNOVATIONS AND SPECIALTIES
On demand all wetted parts available with grade 304 or 316 stainless steel.
Executions for superior sand handling able to handle a tolerable quantity of sand.

INTELLIGENT CONTROL SYSTEMS
All pumps can be supplied with Protection and Control Boxes: Panel-Starters, Intelligent control systems, Electric-Electronic Controls Panels also with Variable Speed Inverters.


4"R Vera™ - BOREHOLE 4-inch REGENERATIVE MULTIVANE TURBINE PERIPHERAL SUBMERSIBLE BOREHOLE CLOSE-COUPLED ELECTRIC PUMPS for min. 4-inch wells COMPLETE WITH 2 POLE MOTORS

Applications
Pumping of clean water in domestic applications from boreholes and wells, agricultural, industry, processing of drinking water distribution. Suitable to replace standard surface pumps, carrying the advantages of lesser space needed, less maintenance and complete absence of noise. For domestic, industrial and agricultural applications, in all cases where it is requested to lift water out from below the ground and to push it above with pressure. Provided that the pump is never left in a dry condition, its anti-seizing design ensures that the impeller does not jam after a period of non-operation.